"When I started drawing, I discovered to relate the movement of the pen with the flow of my thoughts. Then the papers started running out and I continued drawing, spilling over to the walls."
This week, we are talking with the artist Ceren Oykut, whose art goes beyond the paper and spreads to various venues and materials, about the storytelling and the collaboration of text & visuals in her work. Oykut produces site specific works, animated films and book illustrations. She also collaborates with many artists from different disciplines and works on multidisciplinary performances that blend sound, line and space. Oykut's artistic practice is based on drawings: she examines daily life, and collects anecdotes with the detailed stories she draws.
"Ceren has a soft spot for animals, loves walking in the forest, traveling on the sea and swimming, and claims that she can blow back the rain clouds if she wants to." He is currently listening to birds in Berlin, missing the Bosphorus, cats and dogs."

Saul Steinberg, illustrator for the New Yorker, described himself as "a writer who draws". We know that your work has been created with this approach. Can we talk about the storytelling in your work?
Saul Steinberg is a great master who has done, tried and realized everything about drawing. The inventor of the comment-less caricature and graphic humor. Fortunately, he came to this world. I can understand what he means when he says I am "a writer who draws". I experience this myself, like all other artists. In the early 2000s, when I started drawing on A4 papers, I discovered how to relate the movement of the pen with the flow of my thoughts. Then the papers started running out and I continued drawing, spilling over to the walls. The drawings went on and on for many meters, just as the word goes, the drawings themselves produced new stories and made me run after them. I left drawings on the walls of many places, god knows what happened to them. This way of working has changed over time, although my style of production has changed, I have always insisted on the narrative. Anyone approaching my drawing of any size should know that they will not be able to understand exactly what is on the paper, without scanning the it with their eyes, as if they were reading a text. When they examine all the details one by one, nothing will remain but a play of connotation. Many people ask me "did you want to tell me that" or "are you talking about this here?" I answer, "I don't know." I don't know, I forget or don't want to know, maybe I want the viewers to rewrite the story themselves. I just jot down some tips on paper (or on the wall).
Could you tell us about Defne Sandalcı's, Aşk için İstediğimiz Başka Hayvanlar (Other Animals We Want for Love) (Metis, 2020), the book you have collaborated on, and why you decided to work with this text?
Sometimes a single word, sentence, or paragraph can produce enough images for an entire book. Even the placement of this word, sentence or paragraph in the entirety of the book can produce images. On the other hand, the atmosphere of the text Defne wrote and the images out of iron I produced at that period attracted each other like a magnet. We started working very quickly, but I can say that the process took a long time. I added new images to the images I had previously produced. Especially for this book, I produced the iron creature, which we can explain as a word-animal (or animal-word). It was just one part of the work to produce the iron image. I was actually looking for brand new shadows, and for months I took photographs of the shadows of these iron creatures or their reflections from various surfaces. After this stage, the images started to shrink, they became tiny and patterned, then they started to imitate the letters and tried to enter the text. We used 8 of the hundreds of photos I took in the book. This was the most enjoyable part: eliminating!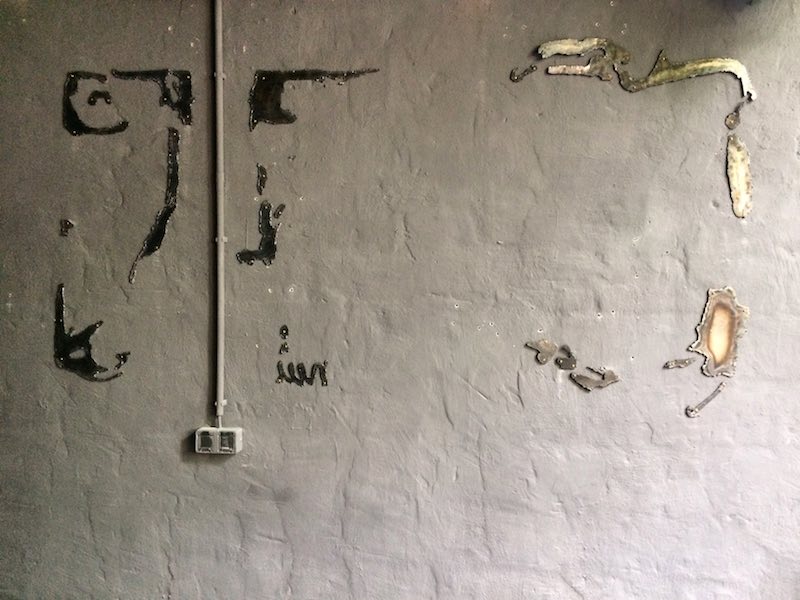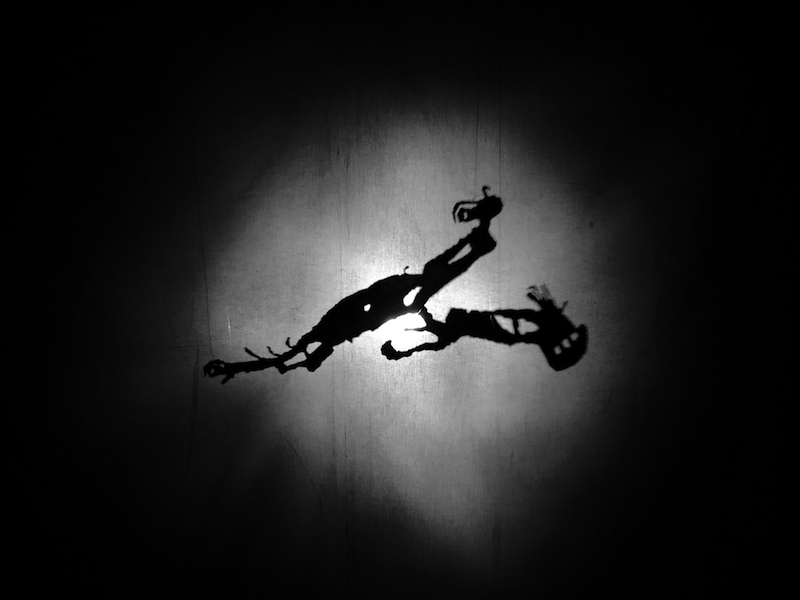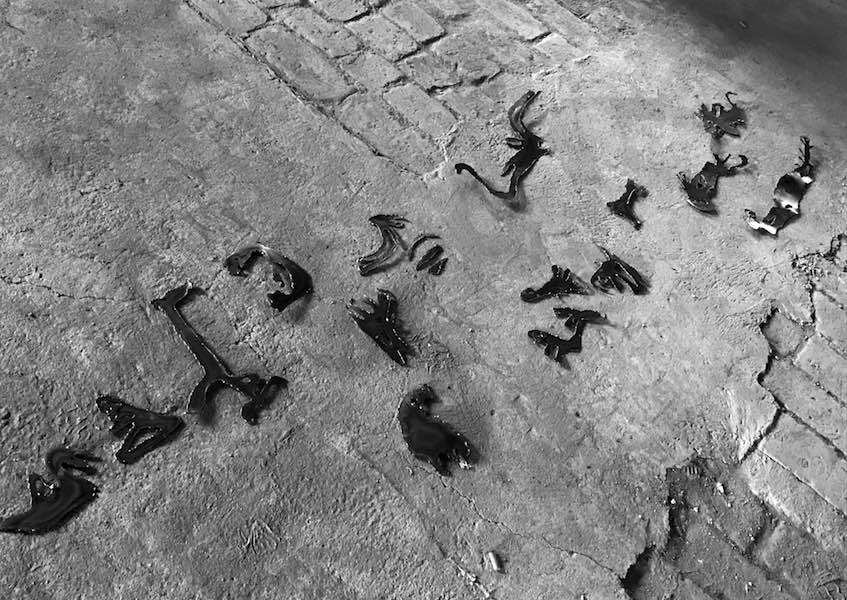 How does thinking and working on text-visual collaboration inspire and develop your work?
Collaborating not only with text but with all other branches is incredibly vision-expanding for me. I have worked with writers, illustrators, poets, journalists, musicians, sculptors, dancers, photographers, video artists. In fact, I can say that these collaborations are my main goals and if they did not exist, I would not have been where I am today. As everyone is aware, it has been this way for a long time; painting, architecture, music, text and ritual were all together. In churches, mosques or old temples, we can observe all these branches which were separated and continued on their own, together as a whole, and grasp it as a whole. In the past, storytellers traveled with rolled up pictures. There were maps, descriptions of all kinds of creatures and many thing that we don't know know in these rolls. The storyteller probably included theater and music in his narrative while telling his story. The text-visual togetherness is an endless field full of surprises and its roots go deep. We can count the calligraphy tradition of the Far East and the Middle East as a good example of this union. This graphic tradition is an important resource both visually and verbally and I feel it follows me like a shadow during the performances. I try to train my breath and speed, I try to pay attention to the gaps and silences just to be able to accompany the flow properly during the performance. I feel safe when I rely on such traditions of humanity.
What are the points you consider to be most important in the creation process?
The list of things I pay attention to changes based on the production areas. But I should say, the most important thing I pay attention to is balance. This is a matter of chemistry, I'm trying to make sure everything is in order. This one demands mastery, and there is still way to go. It is especially challenging in my drawings on paper because I cannot help myself to go into the details and even more into the details. I have work where I get the balance well while I also have work where I tip the scale completely. I try to love a piece where I get results I don't like and I try to be critical of a piece I like. I think that not only drawing part, but also restint is a part of the production process. If I am working on a drawing with any deadline, I complete it about a week before submitting it and let it "brew". During that time, if possible, I just enjoy relaxing and do not look at the drawing even with the corner of my eye. This part is very exciting, sometimes even short trips can come in between, I think this is the most important part that adds life to the drawing. During performances, I usually enter the venue early if possible and start touring. Even in very simple setups, there are thousands of unforeseen details. Most importantly, it takes time to warm up to the space. Even the material of your chair can change the course of work. I can't do a good job without feeling the performance space to be as close as my own home or the back of my hand. I try to blend and balance a certain tension and relaxation. Stage tension, which I have observed, has been used by artists for generations as a source of energy. When the audience starts to come, the energy of the place begins to transform, at this point the course of the work also changes. If the preparation is done properly, it turns out as a good performance. The exhibitions are the subject of a completely separate article.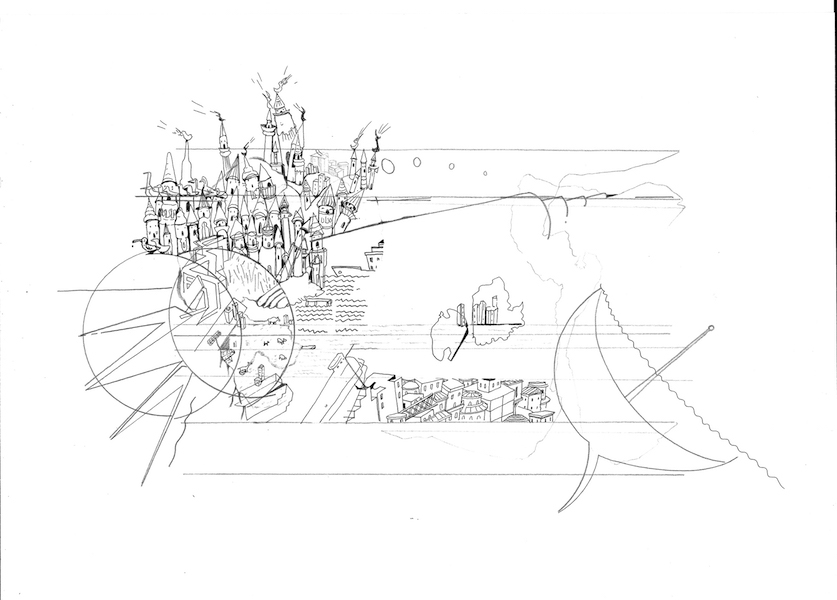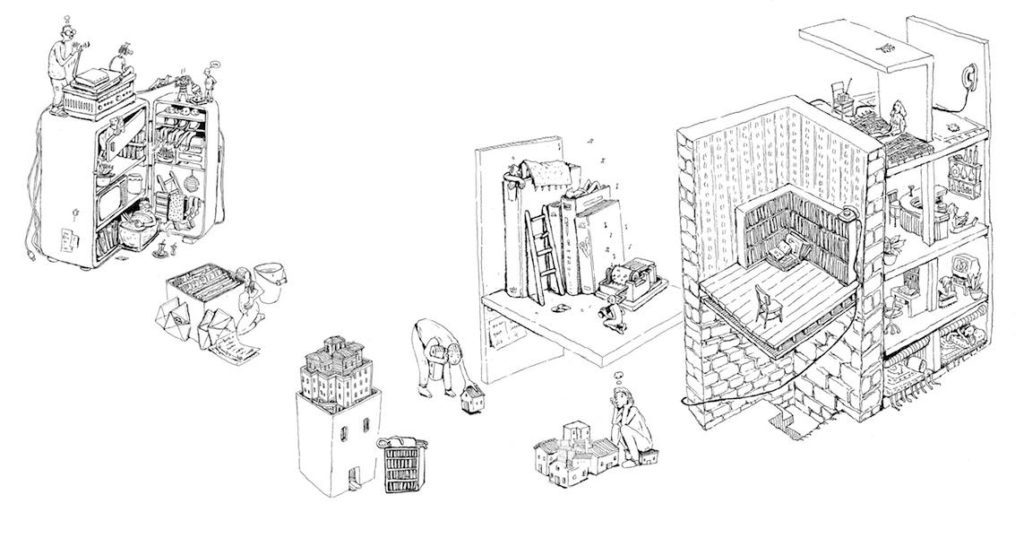 We know that you have collected very many books from used bookstores… How do these books affect your creation process?
Would I be saying something very odd if I said that I also collect the books I collected for the collection stories? Not only books, but sometimes a photo flies through an open window and falls just at my feet, I include it also this collection, and then surely a story reveals itself. I usually go to used bookstores for some books that are not in print. Apart from that, when I traveled a lot, I used to collect cheap publications from some places depending on where the road led me. For example, I found some children's books in an old grocery store in Bulgaria. I bought coloring books printed on a very old and thick straw paper. I had not come across this paper in a very long time. Or I found very cheap children's books again in a grocery store in Cairo. Although I don't understand the stories, I can't get enough of examining the pictures and the quality of the print. Obviously, a lot has been done with little means and some folk tales have been depicted. A book I found in a market in Armenia was confiscated on the Georgia-Azerbaijan border. I can never forget this incident. It was an ancient collection of biblical illustrations of the unique medieval Armenian painters, they were printed with very good quality on small-sized thick paper, an elegant hand had wrapped these books together with a beautiful thread. I also found a book in Russian at the same flea market, describing the Russian-Tatar wars, and accompanying it with beautiful pictures. They did not seize this book on the Azeri border. In Berlin, on the other hand, one can come across incredible books at flea markets. Lastly I bought a very old sticker book, made for kids. Unlike other sticker books for kids, this was a very beautiful and thick botanical book. Later, dear Gökhan Akçura presented me a children's dice games collection from Edition Leipzig, one of the most important publishing houses in East Germany, and this book is one of the fixtures of my little library in Berlin. Gathering is widespread among artists, and at times they become a nuisance… I'm not a very excessive collector, but I am someone who travels a lot among what I collect, and can find new ways and stories while pursuing what she has collected. If I have ever formed a relationship with a book or an object, I like to think about the reasons for it, to daydream and to look for stories behind it.
Being an "artist that goes beyond text" has become more important for illustrators across the world, especially for the last ten years. What do you think about it?
I don't know what it means and how important it is to be an artist that goes beyond text. If the issue here is a book, I think the most important point is to have a good blend. Why is the "Pıtırcık" series (I can not get my self to call it Le Petit Nicolas, I would like to send greetings to Vivet Kanetti, who first translated this series into Turkish), which was created in collaboration with Sempe-Goscinny, is so awesome? Because text and drawing are so harmonious that they cannot be separated from each other, they let you in, they translate to each other, you lose yourself while reading and looking. In this series, Goscinny's sense of humor, storytelling and adventurousness is different than in Asterix, Lucky Luke or Iznogoud. Goscinny almost created a special language for Sempe's drawings, which makes productions about daily city life. Maybe this is what is meant by being an artist over the text.

How did moving from Istanbul to Berlin affect your art career?
It will take a long time to fully understand the effects of this change. But there are things that can be seen, for example I have resumed working on interdisciplinary performances. I had been unable to make such collaborations for years while I was in Istanbul. In Berlin, on the other hand, there are at least three separate projects that we are continuing with other artists. Of course, Berlin's tradition of performing wonders with a low budget had a positive impact on me. Dancers, musicians, writers and visual artists are always very open to different collaborations. Many of these artists come from different countries. South American, Far Asian, Middle Eastern, Eastern European, African, etc., they are ready to speak a common language that has become established in the productive environment in Berlin, in this cosmopolitan environment we often forget who each other is, where we come from, and even not at all interested. Everyone is solution-oriented as if they have made a collusion and is ready to work in a harmonious team for a good job to come out. This creates a very favorable environment for dreaming and realizing. It does not matter small or large stages, neighborhood bars, workshops or studios, sometimes apartments, etc., surprising spaces, potential scenes and environments can emerge from behind a broken door. They transform spaces with very little intervention, the past and present of the space that it transformed into begins to emerge without difficulty. Here I had the opportunity to reflect on and deepen my drawings as well. Drawings on paper are produced much more slowly than before and by digestion over time. In my drawings, scenes from different worlds that were not related to each other started to come together on the same surface. Different materials started to be included in my individual productions. I did apprenticeships from time to time to learn new techniques in some artists' workshops and it was very stimulating. Berlin (and Germany) also has a tradition of craftsmanship. It is impossible not to admire the craftsmanship of these artists, who are also workers, and their adoption of the traditions of their business. There is also a tradition of solidarity and barter (object exchange or workforce) that thwarts money, which is the subject of a serious article.
Thank you very much for this intriguing discussion!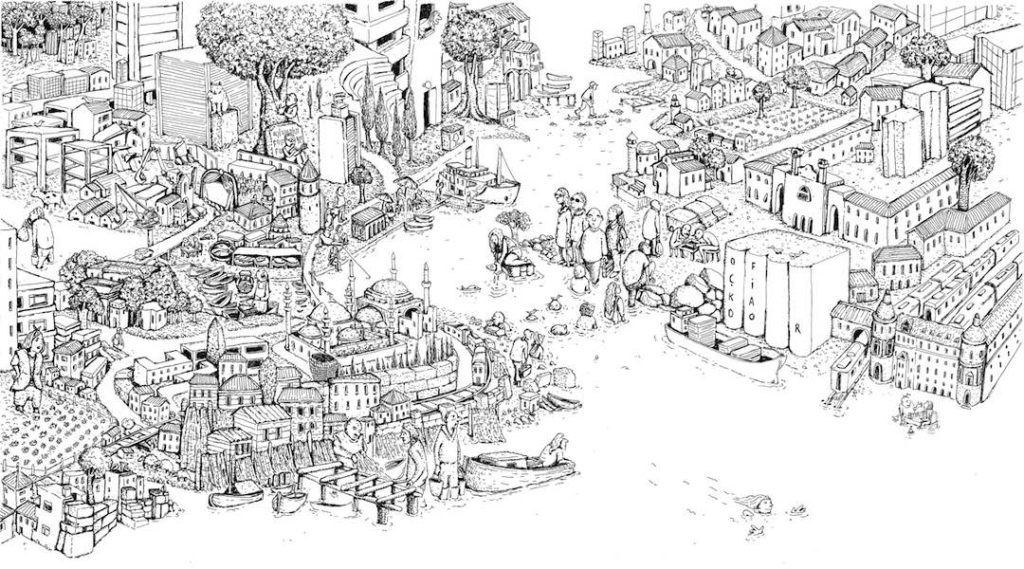 Who is Ceren Oykut?
Ceren Oykut was born in 1978 in Istanbul-Paşabahçe.
She spent part of her childhood between Göztepe-Kızıltoprak and most of it in the Bosphorus, where she learned to swim.
She completed her secondary education at the Italian Girls' Secondary School and her high school education at the Italian High School.
She graduated from Mimar Sinan University Art Department in 2002.
She has been living and working in Berlin since 2017.
Ceren Oykut has held many solo exhibitions since 2003 and took part in many projects in and out of Turkey.
Her work has been presented in various international publications and has been featured in newspapers, magazines and books.