"Now sketchbooks are the basis of all my projects and have become a project in itself. For me they are like a small private room, a space where I can experiment and archive my research."
This week, we talk with Jesús Cisneros, Spanish-born artist and illustrator in whose illustrations we closely feel the influences of his own culture and the sincerity, about his latest book project and the importance of artist's notebooks in project development.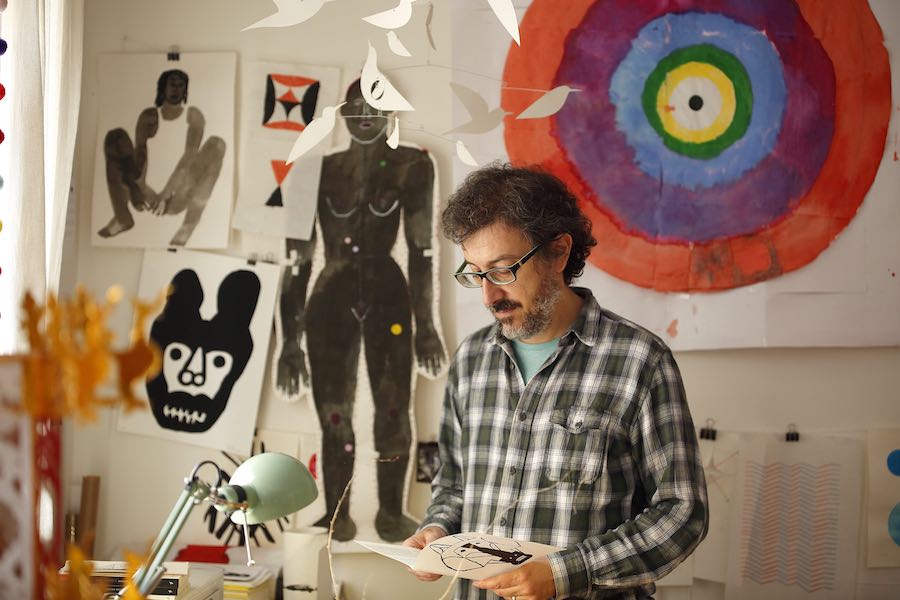 "I like to leave the drawings on the table from time to time and let myself be carried down the street to the river, take the path and walk for a while next to the trees that overlook the Ebro. Now in spring the trees wake up with new leaves andI think of Mexico and the jacarandas in bloom. While walking next to the huge and ancient trees of Coyoacán, with their solid roots that raised the slabs of the ground and the branches extended in the air, I sometimes thought about the double nature of drawing, between heaven and earth, between reality and imagination. Those trees seemed beautiful presences to me, kind and wise, protective and always patient with the illusions and dreams of the artists."
Hello Jesús! How do you approach a children's book?
Hello! I try to make the process of illustrating surprising and new to me every time. I think that if I find the labor that I develop on a book stimulating, those feelings will carry over to the reader. Therefore, each project is a little bit diferent. Normally it is a slow process for me, I need to work a lot to finally find the way.
At this moment, I am doing the illustrations for a children's book of poems by Argentinian author Jorge Luján. Each poem will be accompanied by an image. These poems are very visual, and this is interesting and difficult because a special nexus has to be established between two images: the image that the text suggests in the mind of the reader, and my drawing. It is exciting when the drawing expands the meaning of the poem without changing the esential sense of it.
On the other hand, I like to explore new materials and techniques. I have experimented in this book with charcoal pencil on water base for the line, and intense colors of liquid watercolor for areas within the lines. Liquid watercolor produces very bright colors, and water expands charcoal. I like this effect, imperfect and fresh.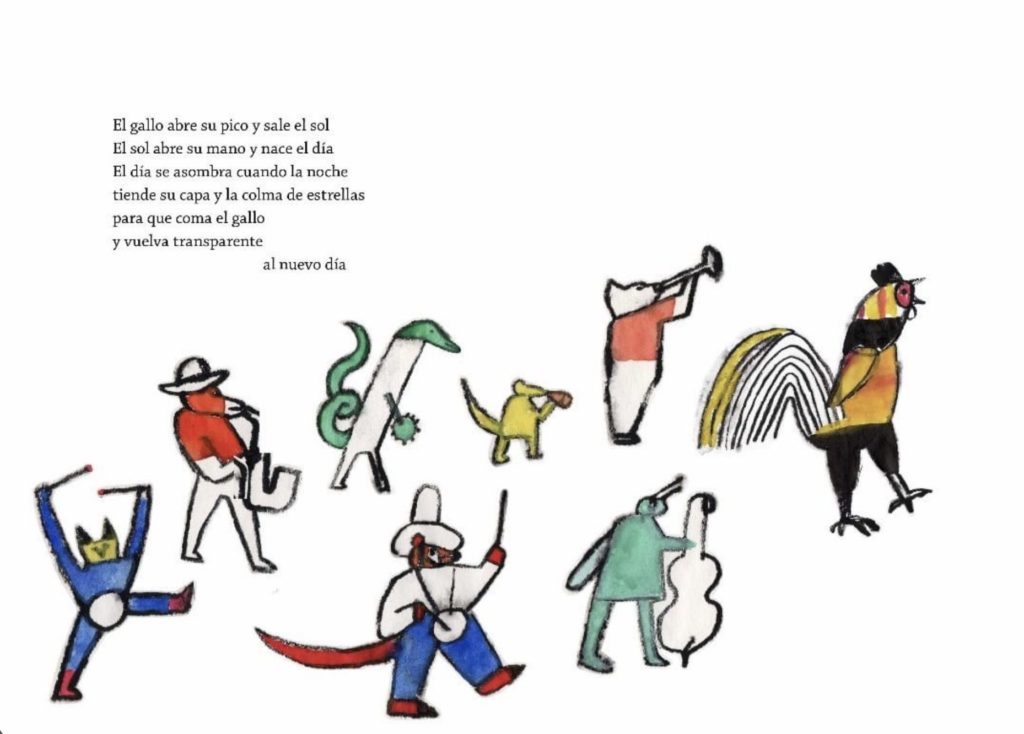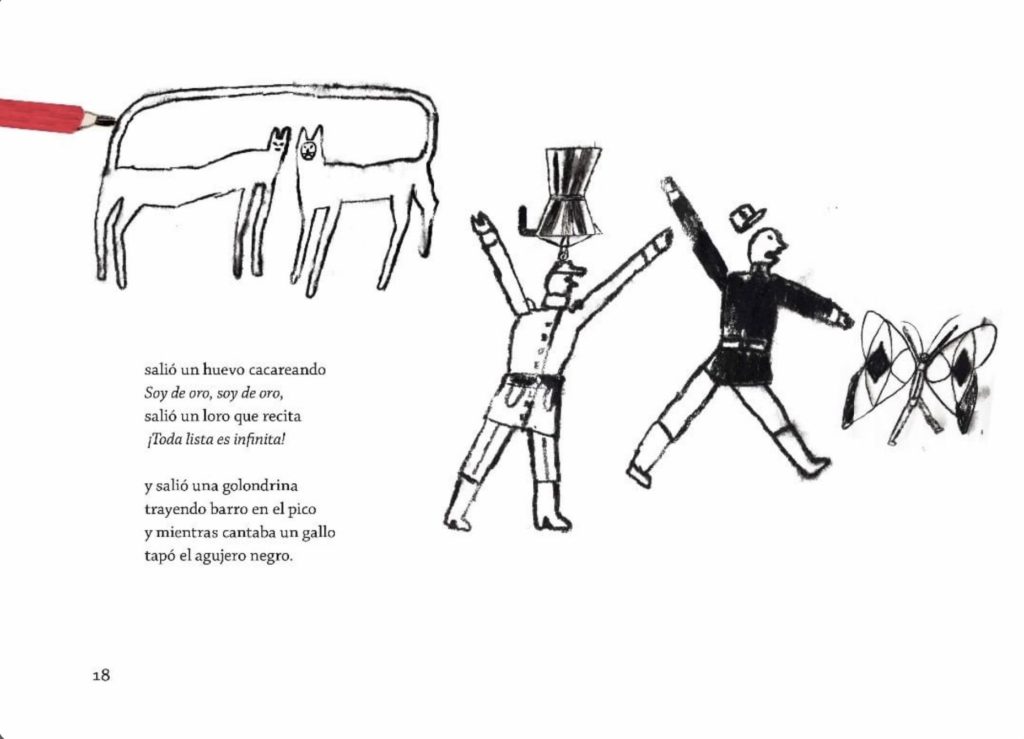 How important are sketchbooks for an artist? Can you tell us about your sketchbook project 'Six'?
I started working on sketchbooks around ten years ago as a personal project with the sole intention of learning and having fun drawing. Now they are the basis of all my projects and have become a project in itself. For me they are like a small private room, a space where I can experiment and archive my research.
Six is a collaboration with Unseen Skecthbooks. The book is divided into six chapters: themes, series, memory, exploration, accidents, fiction, and each section is introduced by a text. Finding the common elements and the main ideas repeated on pages made over several years has been very interesting. The book also offers a sample of the different techniques and styles that I have put into practice on those pages, with the spirit of freedom that the sketchbook inspires. I think that in general it is a good reflection of my interests, a very personal book, like a self-portrait.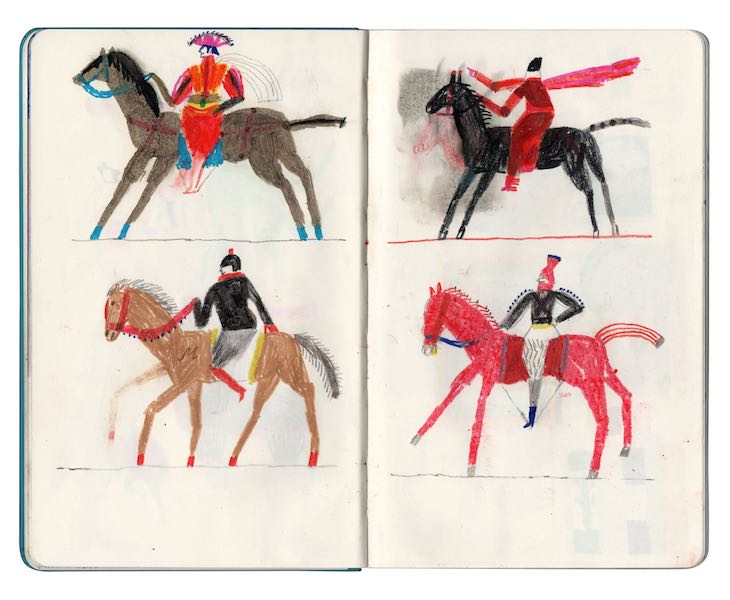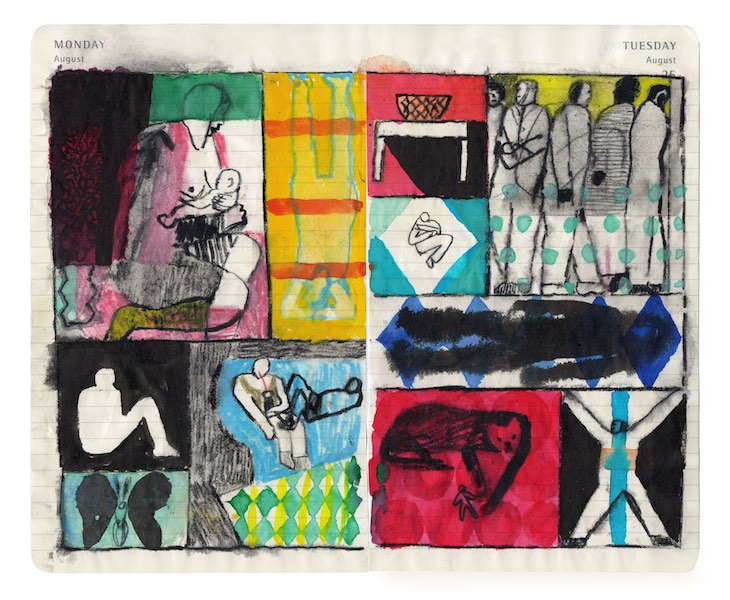 How do you usually keep yourself inspired?
I think that continuous learning is very important and I try to be receptive to as many art forms as possible: literature, music, painting, cinema. Folk art always dazzles and delights me: masks, textiles, ceramics… I love the wisdom with which this art uses form and color and it is also an influence on me.
I am also attracted to the natural world, plants, animals and in my sketchbooks these elements of nature are always present although transformed by my imagination. A simple walk can also be very inspiring. I think of drawing as a way to keep my curiosity about the world alive and, in this sense, many things inspire me: a face, a building, a tree leaf, a tale…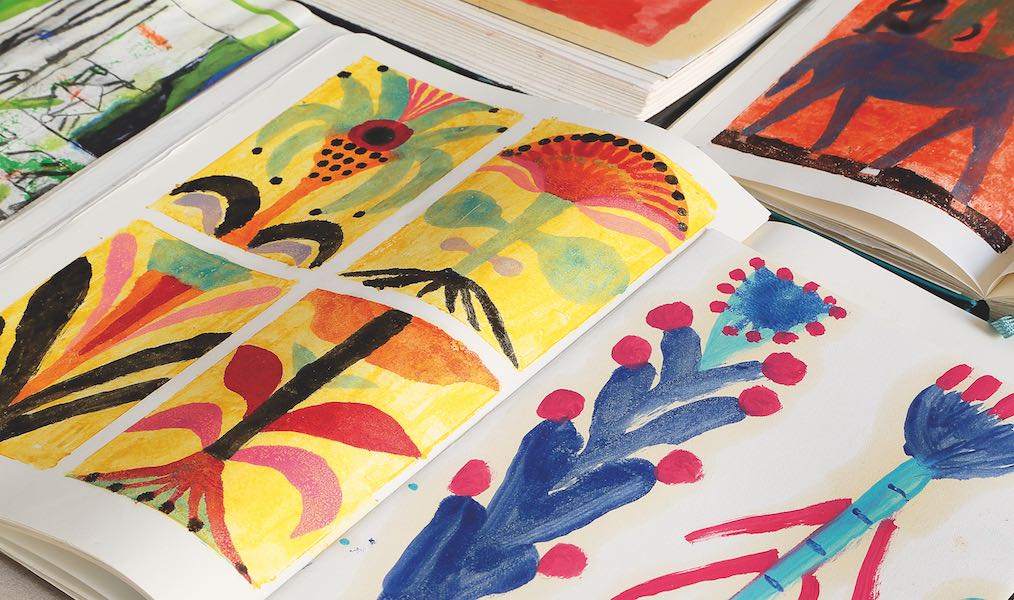 Do you have a work routine? How much time do you spend working in a day?
I try to be disciplined. In a normal day I can spend many hours at the table, and sometimes an interesting drawing emerges at the end of a day, after a long series of failures. Whenever I can I dedicate some time to sketchbooks, although it is not always possible, due to the requirement of professional commissions. Hours spent on sketchbooks are never a waste of time and I always feel like they renew and revitalizes my work.
Can artistic skills be learned later or are you born with that?
I think the important thing is the union of vocation and perseverance. In my experience as a teacher I have been able to verify the importance of education. I believe that adequate teaching is fundamental, which is not focused only on skill and imitation, but analyzes the fundamental bases of graphic language and visual communication, stimulates curiosity and continuous learning. In short, something that provides the student with the appropriate tools to develop their work.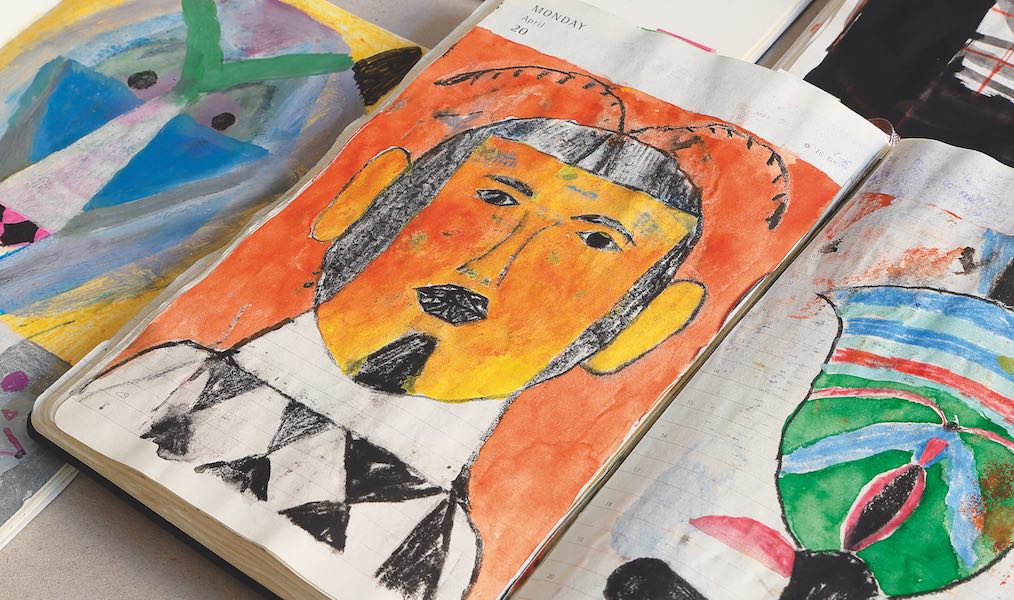 How do you see the future of illustration profession?
In general, I think it is a good time for picture books, because a nice book, beautifully written, illustrated, edited and printed, can never be substituted for a virtual image. There are also many ways opened to digital media, equally interesting.
In particular, I would like to continue working on various projects, such as collaborations for doing silk-screen prints, ceramic decoration, textiles with my images… Also, in recent years I have done some exhibitions and it has been very interesting to approach large formats, and I wish to continue exploring that path.
A very important part of my job is teaching. In the workshops, the contact with other people who love drawing, has been, in recent years, one of the most important sources of creative experiences and has allowed me to enrich and renew my perspectives. It has also given me the opportunity to travel to many places in the world: Mexico, Spain, Italy, France, Germany, Russia, Korea, Thailand…
What kind of books are you usually reading in your free time?
I love reading. I think that literature is a mirror of the world that is basically similar to drawing: in representation, reality and fiction are closely linked. I especially like the literature that unites the real world and the imaginary, reason and dreams. We can find this in Franz Kafka, Italo Calvino, Julio Cortazar and Jorge Luis Borges, but also in traditional tales and legends. Some of my favorite readings have been short stories written by Flannery O'Connor, John Cheever, Chejov… I like to alternate classic books with current writers. Sometimes I discover a writer I did not know when I search for information on a specific topic, such as the book I am reading at the moment: Life in the Garden by Penelope Lively. And there are authors like Lewis Carroll who can be re-read infinitely, because in their pages we always find imagination, poetry and humor.
It's always a pleasure to chat with you. Thank you very much!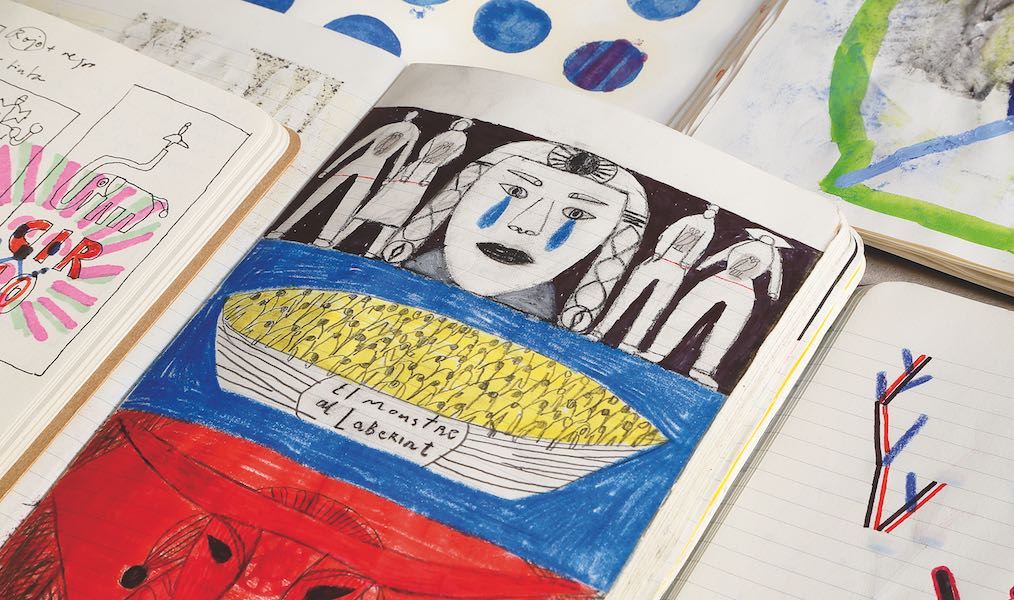 Jesús Cisneros – Biography
Jesús Cisneros (Spain, 1969) studied in Zaragoza, first Art History at the university and then Illustration at the School of Applied Arts. His books published in Spain, Mexico, Colombia, Italy and the United Kingdom and he has collaborated in various editorial projects. Professor of illustration for five years in Design, Film and Television Center and in the postgraduate course of illustration at UNAM, both in Mexico City. Professor in the courses of the Scuola Internazionale d'Illustrazione of the Štĕpán Zavřel Foundation, in Sàrmede, Italy. He has also conducted workshops in Spain, Mexico, Germany, Korea, Russia and Thailand. He had individual exhibitions in Mexico City, Seoul and Marseille. He was awarded the Lazarillo Illustration Award. Special mention in the illustration biennial Ilustrarte, Lisboa. He was selected three times for the Illustrators Exhibition of the Bologna Book Fair.